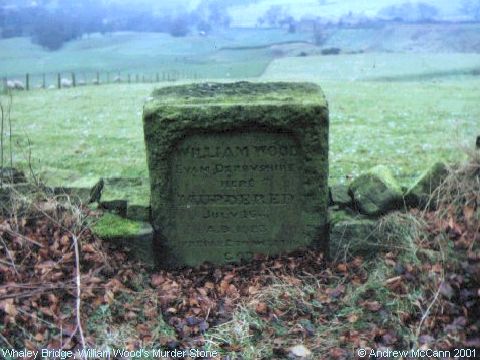 A marker denotes the spot where
Wood was killed.
On the night of July 16, 1823, William Wood, a weaver, was returning home to his small village from selling his wares in Manchester, England. On a lonely stretch of moorland road between Disley and Whaley Bridge, a gang of highwaymen attacked and killed Wood, clubbing the traveler to death and robbing him of his possessions.
So hard was Wood hit that his head left a deep impression in the soft ground. Oddly enough the hole remained so for many years, despite rains and winds that shapes and erodes the rest of the landscape. Moreover, what vegetation once grew there soon died and the spot remained lifeless thereafter.
A local legend arose from this oddity, one that reached the attention of Alfred Fryer, a famous naturalist. Fryer visited the spot in 1859 with a local man who told him how neither rain nor wind had managed to deposit any sediment over the years.
Scoffing at such ridiculous nonsense, Fryer packed dirt and stones from the road into the barren hole and retired to a nearby pub for a pint. When he and his companion returned an hour later, Fryer was shocked to discover the dirt and stones scattered about, seemingly ejected from the cavity produced by William Wood's head.
Fryer repeated his attempt several more times to the same shocking conclusion. So dumbfounded and shaken by this inexplicable occurrence, Fryer didn't even bother with an explanation. He simply walked away from the bizarre and unnerving mystery.
________________________________________
http://places.wishful-thinking.org.uk/DBY/Eyam/WmWood1791.html
"Barren Ground" Incredible But True (Radio Programme)