Looking to decorate your dismal abode with a subtle hint of the sinister? Well, then many purveyors of the perverse have subtle, sophisticated offerings that would please even the snootiest of decorators.
While dark decor was once relegated to erstwhile 'goth' accoutrements, more and more companies (especially in the print-on-demand 21st century) are offering fashionable alternatives that can add a surprise element of horror in an otherwise traditional setting.
Many examples can be found online for wallpapers that scream horror chic...
Rats Behind The Wall Paper...
You can find an assortment of other Cthulhu-inspired designs on that
same site
.
If the macabre countenance of grinning skulls is more your style, check out Dia de los Muertos "sugar skull" pattern available via
The Awesomer
.
I would imagine that in the right light, these flocked skulls would almost seem to float on this slick wallpaper from
Rockett St George.
You can also re-cover an old Rococo-style chair with a funky skull damask fabric like those you can find at Spoonflower.com.
At first glance, these vases from
houzz.com
simply evoke the look of French Country crockery, but when you peer closer you will notice the eldritch escutcheons.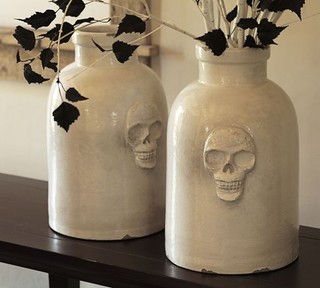 This intriguing objet d'art is a great inspirational piece for crafting your own macabre statement, perhaps from clearance bin Halloween bargains. A resin skull dripping in gold paint and a wooden pedestal spraypainted to a glossy black instantly gives you not only a dark decoration but a conversation-starting work of art.
And if your tastes lean more toward the distressed and antiqued, it is easy to create a compelling vignette like this once--if you don't mind getting your hands dirty digging up some of the pieces. :D The old-world reliquary feel of this grouping would look fantastic against a slate gray wall (as shown here) or against a tone-on-tone metallic damask.